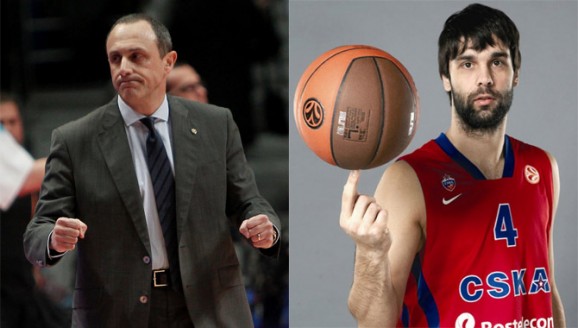 WE ARE PREPARING FOR A TOUGH GAME
We were given statements by two members of the oposing team just before the Sunday match with CSKA Moscow, which begins at 17:00 at O2 Arena.
ETTORE MESSINA
You won with CSKA the first Euroleague title in Prague in O2 Arena in 2006. How do you remember this Final Four tournament?
It was obviously a very special moment for myself and for the club to win the first Euroleague title for CSKA in 35 years. We were not the favorites at the time. Maccabi was considered a clear favorite. And though we had a very difficult semifinal game against Barcelona, the final game was very memorable. The arena which beared the name Sazka Arena at the time was full of Maccabi supporters. But our fans were also very supportive and loud. So it was a big pleasure to bring joy to their hearts and to the heart of all CSKA people who were dreaming about this title.
You´ve got a team full of top basketball stars. How tough is work with these top class players?
It is not tough as long as they put proper effort and dedication to their work. The problems arise when you have to push and motivate your stars every day. And I am talking not about CSKA in particular – the same can be said about any team. When you have the talented players you expect them to be fully committed to what they are doing and what are the goals of the team they are playing for.
What are your main targets in this season?
It's not my goals, it's the goals of all organization. Everyone expect CSKA to win or at least to compete hard enough to try to win every game and every tournament we participate in.
You will play against Czech champions from Nymburk. How tough will bet his game in Prague?
It will surely be tough. We have to play in just two days after the difficult Euroleague game we play on Friday. Our team had problems against Nymburk past season and it was not easy for us to win in Moscow.
What Nymburk players are the most dangerous for your team?
I respect Nymburk as a team which is well-coached and well-organized. Surely the team has some players whi bear more responsibility and leadership. But I don't like to single out any players from the opposing team because I don't want to disrespect anyone and because I am worried more about the team actions.
MILOŠ TEODOSI?
What are your experiences with Czech basketball?
Not so much. We are playing Nymburk for the second season in a row in VTB League and that's it basically. I don't have any special memories about meeting the Czech teams on National Team or junior levels.
You played with Nymburk in the autumn. Hou tough was this game for you?
It was really tough. First of all our team was down mentally after devastating home defeat from Barcelona three days ago. We could not collect ourselves for more than 3 quarters, we were down most of the game and we had to try hard in the end to win. It was not easy for me personally too: I hade too much turnovers and did not shoot well enough.
How difficult match do you expect with Nymburk in Prague?
Hopefully we are on the right track right now. But we prepare to play difficult game. We will be again influenced by our Euroleague game which will take place just two days before. Anyway I am pretty sure we will not rest our leaders as we did a year ago: it was our worst defeat last season when we played in Pardubice.
Your season is very demanding, you´re spending many times in the airplane. How do you relax between the matches?
You are right, I am trying to be careful with my time off. I live very close to some of my teammates so we can meet and go to the restaurant for the dinner. Obviously, I watch movies and play videogames. I would say I stay home for most of the time.
vloženo: 15.03.2013 21:26 / přečteno: 35994x
« Back