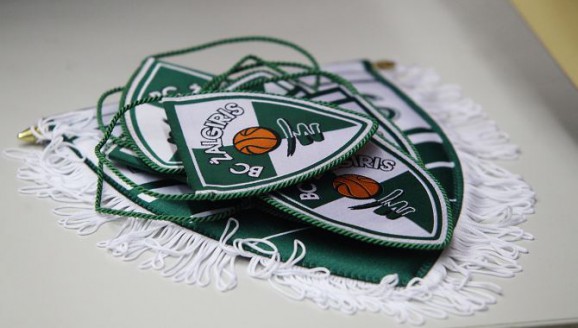 GOOD GAME
In the 15tn match of the regular season we lost with Zalgiris Kaunas 84:90.
Lithuanian team took the lead early in the game but could never make it a comfortable margin, finally putting us away at the end of the game.
Zalgiris came to Nymburk as Group B leaders. The game began evenly, with our team relying on 3-pointers and the Lithuanians looking to their big man in the paint, Darjus Lavrinovic. At the end of the first quarter, Joan Plaza's team tried to go on a run and separate from us. Ksistof Lavrinovic and Jeff Foote scored under the basket, Rimantas Kaukenas hit free throws and Marko Popovic knocked down a jumper. The visitors' lead grew to nine points, 23-14.
We recovered quickly, however, and kept Zalgiris from doing any more damage.
Led by Radoslav Rancik and Demond Carter, we continued to fire away efficiently from beyond the arc. Our team erased the deficit early in the second quarter. In the third quarter Zalgiris tried to pull away, but as soon as they got going, we would claw back via the three-point line.
We ultimately ran into foul trouble. At the end of the third period Pavel Houska earned his fourth foul and had to go to the bench, joining Rancik who was in the same predicament. The loss of two of their leaders had an effect on our team. Zalgiris went on another run and we on the court couldn't find an adequate response. 62:71 through three, but we´ve worked hard.
Though Zalgiris's lead wavered between 3-8 points, we never got any closer.
Neither the deafening support of the crowd nor our leaders' return to the floor or aggressive play on both ends of the floor made a difference. Our primary weapon, meanwhile, ran out of bullets. After Rado Rancik hit a 3-pointer to make it a three-point game, 76:79, our next three possessions were unsuccessful. The Lithuanians took advantage. Despite great spirit and effort, we could not make up their 10-point deficit in the final two and a half minutes. Zalgiris hold on for their 11th-straight win, while Ronen Ginzurg´s team are eliminated from postseason contention. "Despite we lost, I´m very proud of my team. We played one of the best games in this season,"said after the match our head coach Ronen Ginzburg.
vloženo: 03.03.2013 22:54 / přečteno: 35365x
« Back