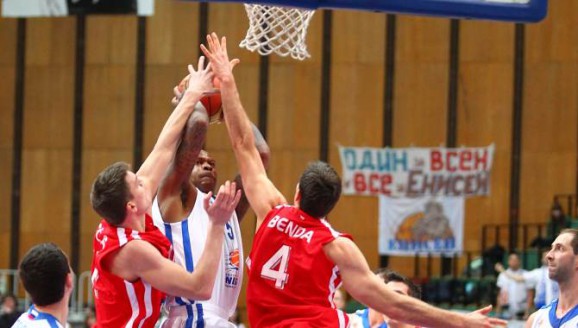 WE LOST THE SEVENTH PLACE
In 17th match of the VTB season we lost 81:59 in Krasnoyarsk. The opponents secured their win after they controlled the most of the game and took our seventh place in the standings.
Our two stars Rado Rancik and Drew Naymick stayed at home, but also Maxim Krivosheev, Igor Smygin and Jason Rich were not available for Enisey because of injury problems. Despite the fact the home team attacked us from the very beginning we ended the first quarter with acceptable loss of five points.
But the second part of the game decided the match. We lost it 22:9 and it gave decisive lead to Krasnoyarsk. Our defense fired under Kikanovic and Komarovskiy's three pointers, while guard Demond Carter's appearance on the court only helped out on a few possessions for the Czech side.
We came out firing in the second half. Kikanovic lost his rhythm for the while and Michael Efevberha and Petr Benda put together an eight points run. Home lead remained just ten early in the fourth quarter.
But Yenisey's players refused the dramatic finish resolutely. Led by Dowdell, they picked up on the offense, cleaned up the defensive glass and increased their defensive pressure, which allowed them to pull away by 16 points midway through the fourth period. The end of the game belonged to Jerry Jefferson, who nailed several jumpers and collected a double-double (with 16 rebounds).
Thanks in large part to that defense, Krasnoyarsk finished the game by 22 points lead and now holds the seventh place over Nymburk in Group B.
vloženo: 10.03.2013 16:54 / přečteno: 32600x
« Back