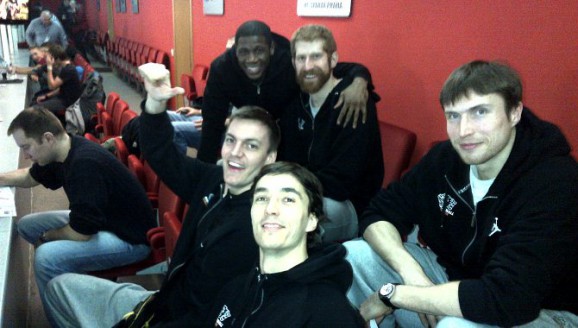 HOCKEY GAME CHILL OUT
It might as well have been the support of Nymburk players that contributed to Sparta hockey team's victory.
Some of our players went to see quarterfinals of the Czech Extraliga in person. In particular, it was Radek Ne?as, Jirka Welsch and Pavel Houška along with the two of our American players, Demond Tweety Carter and Drew Naymick. While Demond didn't have a clue what hockey was about, Drew knew precisely what to expect.
Tweety was born in New Orleans, in the south of United States where ice hockey is far from being a favourite sport of the masses. The quarterfinals were his first hockey game he has ever been to and it can be said with some certainty that hockey gained one devoted fan that night. 'I really enjoyed the game,' Tweety said right after the match. He was genuinely impressed.
'It must be physically very demanding. Players stay in contact through the whole game, they hit each other hard and chase down one another much more than we do in basketball. It's all just so fast,' Tweety talked about the game with enthusiasm. Luckily for him, Drew sat beside him to explain whatever Tweety might not understand. 'I wasn't quite at home with the rules. At times I was really surprised at what was going on,' he laughed.
Unlike Tweety, Drew was born in the north of the US in the state of Michigan where hockey has a different status. 'We've got Detroit Red Wings over there, so there you are. I used to go to hockey matches with my Dad.'
'In 1997 when Detroit Red Wings won the Stanley Cup, I went to see a playoff match. I got the tickets from my University friend,' former student and basketball player for Michigan State recounts. 'I do enjoy hockey. I'd like to go see Sparta if I have any free time. I will support that team,' Drew added.
And maybe he will take along Tweety, who went to elaborate on the differences between basketball and hockey. 'I like power plays when one of the teams has an advantage in number and try to shoot and attack the opponent over and over again. I don't think you could send off players for fouls like these in basketball. The short-handed team would take one hell of a beating in no time.'
'Substitutions are also a lot different. It comes about in a different manner than it does in basketball. It's really fast, I was surprised that all the five players change in just a few seconds at a time and the game goes on,' said admiringly Carter who confessed that so far he has only had a glimpse at few hockey games in TV.
vloženo: 21.03.2013 06:37 / přečteno: 39128x
« Back