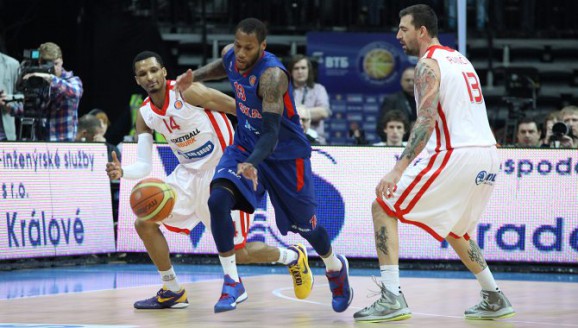 GREAT PERFORMANCE, UNCONVINCING CLOSING PART
We did as we promised. We pushed hard and forced CSKA Moscow, hot favourites of this match, to have to fight until the very end. Weren't it for a few setbacks towards the end of the game, the result could have turn out another way. The European-calibre giant from Moscow would not allow being defeated like they were in Pardubice last year and managed to win in O2 Arena. Nymburk team eventually ended up losing 63:76.
The very beginning of the first quarter indicated that the audience is in for a terrific game. Although the visitors took the lead early on, we managed to keep an even game with Efevberhy putting us 11 to 8 ahead for a while. The score turned around and CSKA won the first quarter narrowly – 15:14.
The second quarter was played out in a very similar vein as the first one. Although CSKA managed to maintain their lead throughout the whole quarter, the game was matched evenly. The bell rang when the score was 41:33 in favour of CSKA, loss of eight points was not, however, very significant at this point.
The Nymburk team started pushing hard right at the beginning of the third quarter. The enthralled audience cheered their home team by loud applause and we played an extremely even game in return. Even though we were not able to take the lead, the third quarter was ended with a promising score – CSKA was only two points ahead.
After the break, the teams and the audience were getting ready for the grand finale. The visiting team maintained their lead steadily right up to a point when Ran?ík and Welsh scored points, putting Nymburk in the lead mere seven minutes before the game ended. After a couple of unflinching free throws, however, CSKA was put in the lead again and it did not step down until the end of the game. After Teodosi? and Erceg scored six points just about a minute before the end, the match was decided. The final result was 63:76 in favour of CSKA.
vloženo: 17.03.2013 23:22 / přečteno: 35642x
« Back