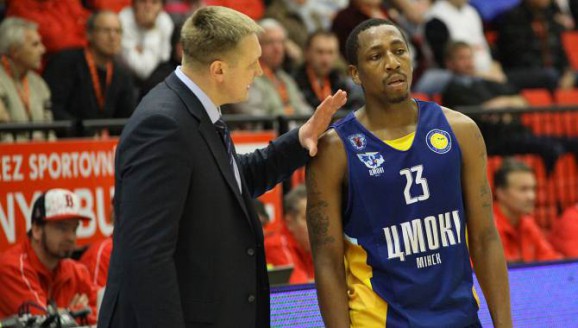 NYMBURK'S LAST VTB LEAGUE GAME UNSUCCESSFUL
The last international game of the season in Minsk did not end well for Nymburk. We suffered a 63:71 defeat in our final game of VTB League.
We managed to take the lead only once right at the beginning of the game. The score then stood at 2:0. The overall result was decided in the third quarter when we allowed Cmoki to get way ahead of us. Apart from poor defence and rebounds we were troubled by our goal percentage. We only managed to score on 13 out of 42 shots. Top scorer was Rado Ran?ík with 11 points.
The beginning itself did not work out well. After a series of failed scoring attempts and a couple of defence mistakes, couch Ginzburg took a time-out. Being worried mainly about opponent's high amount of rebounds, he did not hesitate to come on strong with his players. Efevberha then took the game into his own hands and tied the score with two quick shots from far away. Thanks to more accurate rebounds Minsk took the lead again, with the running score standing at 16:13 after the first quarter.
In the second half of the game our team did not improve its shooting accuracy and, regardless to the coach's words, our defence did not pick up either. Pustahvar's easily converted three-pointer attempt was followed by another Nymburk time-out. Ginzburg raised his voice a lot and started shouting at his charges: "This is not what defence looks like!"
Luckily for us, Minsk's goal percentage was not impressive either, preventing them from getting too far ahead. After Ran?ík's fantastic play, the score was tied once again. Rado managed to get past two defenders and scored, equalizing at 26:26.
That was the point when our defense fell into pieces again. Minsk took the lead and got ahead again after three easy goals in a row. Carter scored a three-pointer preventing Minsk from getting ahead any further and the bell went for the break with the score standing at 36:31 in favour of the home team.
But right from the beginning of the third quarter, Minsk managed to keep scoring easy goals. Uljanko might have even been surprised at how easily he managed to get to our basket twice in a row – and all from a sudden, the scoreboard was showing a 16-point lead for the home team. It was, apart from poor defence, due to inaccurate shooting and a few losses of the ball. Pomikálek managed to conclude his play with a slam dunk, but he was one of a few. That was one of the reasons why we managed to score mere 42 points throughout the first three quarters.
Nothing was lost by that point. Houška scored a three-pointer at the beginning of the final quarter, decreasing the opponent's lead to 9 points. When Minsk answered with two three-pointers, the game was decided. From then on until the end, our team did not manage to close the gap and make the events of the game more dramatic. And so the last VTB League game was not Nymburk's success.
vloženo: 24.03.2013 23:22 / přečteno: 32809x
« Back