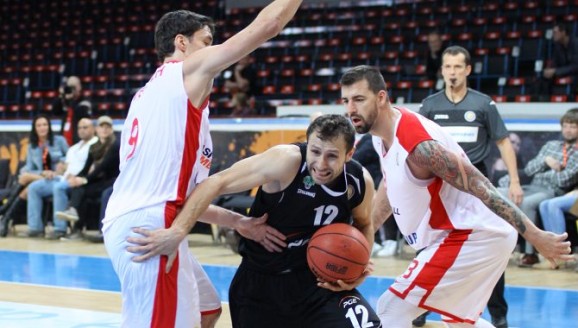 IMPORTANT WIN OVER ZGORZELEC
In the first home game in the VTB League Nymburk won over the Polish team Turow Zgorzelec 77:73 and took a second win in their third game of the season.
This thrilling game , which took place in Prague, was decided in the very last minute. Forty seconds before the end Turow led by one point when Tre Simmons scored two points. After this Turow couldn´t throw the ball into the game in five seconds due to Nymburk´s tough defense on the opponents half of the court. So the ball got home team again and this was the breaking point of the game.

After this Nymburk proved to be very concentrated in the deciding moments of the game. Simmons was fouled and scored both of free throws same as Vojtech Hruban a few seconds later. Leading by five was enough to win. Another two successful free throws by Simmons definitely secured win for Nymburk. Three points in the last second by Turow were not enough to solve anything.
Kestutis Kemzura (Nymburk)
First of all as you saw it was tough game for us. It was the first game in the VTB League at home and in this arena so we are happy that we finished it with win. But for sure the performance was not what we wanted to see. We started the game not so bad but maybe because of bad luck we couldn´t score some points. In the second quarter we made some bad decision in offense also in defense. It led our opponents to finish first half with some lead. In the third quarter, even though we talked about at the half time, we started playing without showing the energy and intensity. It was not for the first time. It was crucial when we put the guys from the bench to the game and they got us back. One of those guys was Thomas Massamba and also Vojtech Hruban, Pavel Houska and Martin Rancik. In general Rado Rancik played well and was real leader today. We started playing more defensively and tougher. We got some easy baskets but it was crucial that we showed that we can play defense. We are happy for the win but we still have much to learn.
Miodrag Rajkovic: (Zgorzelec)
We play two leagues so we don´t have time to cry about one game. We are expecting second game in two days so we have to forget that and focus on the other game. It´s only what is good in this competition. We show the respect to Basketball Nymburk and we will try to beat them next time at home. Today we made couple of mistakes. We played good game just only for 39 minutes.
vloženo: 27.10.2013 23:19 / přečteno: 34054x
« Back