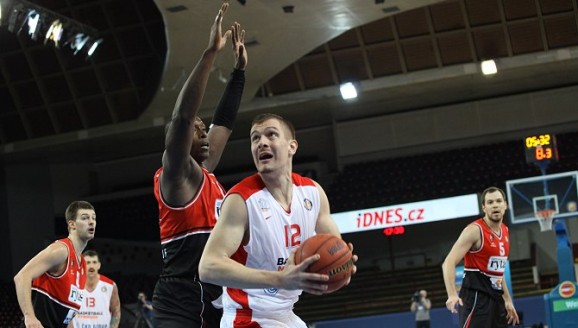 FIRST HOME DEFEAT
?EZ Basketball Nymburk lost its first game at home of the regular part of the season in the VTB United League. Lietuvos Rytas defeated Nymburk 76-61 in the Tipsport arena in Prague.
The home team started of very well, but the visiting team took over the control in the second quarter and kept it until the end.
In the beginning of the game the Slovakian forward Radoslav Rancik scored 10 points in a row helping Nymburk to the 10-2 lead. After a time out Rytas tightened up the defense and were able to put their performance to a higher level. Gecevicius's successful three point shot let Vilnius to tie the score at 19-19 at the end of the first quarter.
In the second quarter Nymburk struggled with defensive rebounds. Rytas gained new 24 seconds many times. Though the Czechs continued to score from distance, it was hard for them to penetrate into the paint. Rytas three pointers also continued with excellent performance.
Darius Songaila and Juan Palacios faced a little resistance, they managed to pick up easy points for the visiting team. By the halftime, the Lithuanians had taken over the game, leading 39-31.
The third quarter was the part of the game that decided. Although Nymburk improved on defense, they continued struggling in offense. Rytas center Stefan Jelovac broke the stalemate, his two three pointers made Nymburk's task even more impossible. They tried to push the pace in response, but Lietuvos Rytas still held a 57-41 lead when entering the fourth quarter.
The final period was just a formality. Songaila and Palacios were even fouled out, but it made unfortunately no difference. The Lithuanians continued to control the pace and won the game by 15.

vloženo: 11.11.2013 05:18 / přečteno: 34146x
« Back