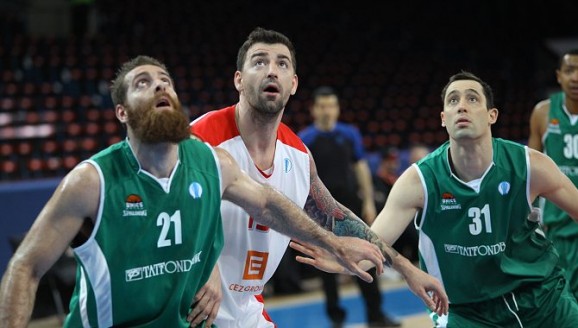 HARD LESSON FROM KAZAN
Nymburk has lost it's first EUROCUP play-off game against Kazan 58:91. It's competitor ruled the game from the first minutes and made an important step to quarterfinals. The rematch takes place in Russia in a week.
Kestutis Kemzura (coach Nymburk)
Not much to say, They just shoot us down, had a great defense and shown great physicality. We could not find ways to the basket. Defensively they created a lot of problems, we could not stop Goudelock. He was very good from inside and outside, they played the ball well and deserve to win. It 's too bad that we didn't play the best game of ours at this moment. Some of our players were injured, burned out or too anxious to do well, we just didn't perform the best that we can.
Andrea Trinchieri (coach UNICS)
We were very focused, which had a good impact in defense and had clear goals. I am very happy that the team could use the talent and the tools they have. Even the players from the bench were doing a good job setting good screens, giving up shots, working for the team and showing great defense. I think we controlled the game from the first minute. The gap is important, but we have just played forty out of eighty minutes. We had a good margin and if my team will continue to play with such unselfishness and the will to help each other, I am sure they will be able to deliver a great job again.
vloženo: 06.03.2014 06:27 / přečteno: 34015x
« Back