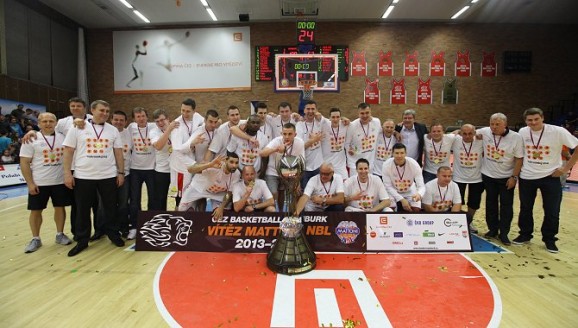 ELEVENTH TITLE IN A ROW
CEZ Basketball Nymburk gained it's eleventh Mattoni NBL title in a row and confirmed it's leading position in Czech Republic. For the first time ever it went through the whole season unbeaten. This was decided at the third finals match, where it defeated the team of Prostejov 97:63 and won the series 3:0. The champions ovations were then louder this year, as the finals were held in the home court.
This year Nymburk participated in several challenges. Winning the National cup and league, it has changed the Czech basketball history. For the first time ever it fought through the league season without a single loss. The Czech champions conquered the scene for the eleventh consecutive year beating the second best Czech basketball team Ariete Prostejov for the fifth time in a row.
The only Czech representing team also gained success in Eurocup, where it battled through two tough groups all the way to the play off and lost against the later finalist UNICS Kazan. Despite this loss, both the Latvian coach of Nymburk Kestutis Kemzura and the team have nothing to feel sorry about. Fitting the LAST 16 is a great success in the new tournament format.
The only challenge where the pre-seasonal commitments had to remain unfulfilled was the VTB United League. In this competition full of strong, mainly East-European teams, Nymburk was left at the gate to semi-finals. Nymburk will however strive to get through it in the next season.
Winning the Czech competition, this season is over for Nymburk. However, an intense preparations for the next one are running already, in order for the team to become stronger and even more competitive in the European format. Some of the players will play on the national team in the qualification for Eurobasket 2015 with the advantage of home matches being held in Nymburk.
The collective team preparation will start in August again with Kestustis Kezmura as the head coach. The national team members will join after the qualification is over.
vloženo: 01.06.2014 11:54 / přečteno: 34738x
« Back