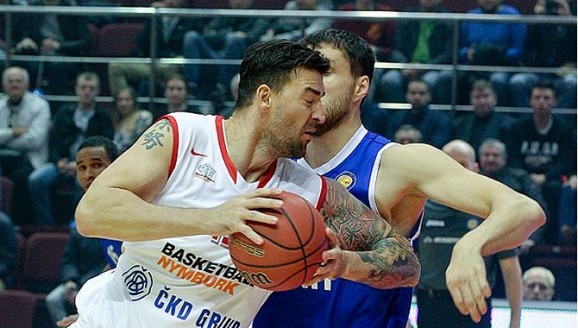 OVERTIME LOST IN ST. PETERSBURG
Nymburk lost also the second game in the VTB League. With the new branded team of Zenit St. Petersburg fell in overtime 95:91.
Nymburk team was down by six after the first half but enjoyed a 9-0 run to open the second half, continuing to dominate in the frontcourt. But Zenit didn't fold. Cameron Jones took over for the team in the third quarter, dueling with fellow American Darius Washington in the backcourt. Two big men, Dejan Borvnjak of Zenit and Petr Benda of Nymburk also put on quite the show.
The final quarter was a repeat of the third. Both teams were continued to score, with Nymburk gradually pulling away in the final minutes. Up four with less than 20 seconds to play, it looked like Nymburk would secure a win, but Hodge knocked down a deep 3-pointer for Zenit to pull his team back within one point.
On its final possession, down two points, Zenit had a chance to tie or win. Kulagin missed an off-balance jumper but Kyle Landry was in the right spot at the right time, grabbing the offensive rebound, drawing a foul and hitting the putback at the buzzer. That tied the game, 78-78, and Landry went to the line with a chance to win the contest. He missed the free throw, however, sending the game to overtime.
The extra period did not disappoint. After a 6-0 start from Zenit, the Czechs came roaring back from the perimeter. In the end, though, Nymburk couldn't quite close the gap as Hodge, Borovnjak and Jones kept the visitors at bay. Zenit wins, 95-91.
vloženo: 07.10.2014 16:00 / přečteno: 30756x
« Back