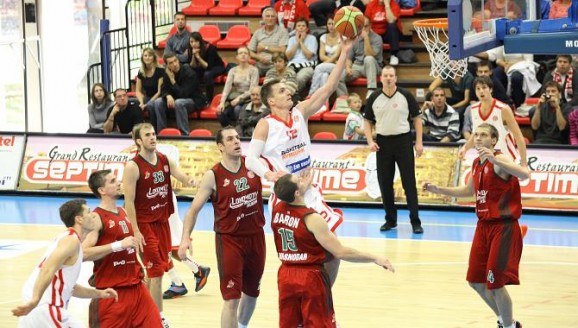 VTB SEASON OPENER UNSUCCESSFUL
CEZ Basketball Nymburk lost its opening game in the new VTB United league regular – season. Lokomotiv-Kuban (Russia) defeated Nymburk 82-67.
Krasnodar pulled away by five points in the first quarter, then doubled its advantage in the second period. Determined to put the game away, Lokomotiv extended the lead to 20 in the third quarter, and had little trouble securing a win.
Lokomotiv-Kuban kept up the pressure coming out of the half, delivering a knockout blow by the middle of the third quarter. Richard Hendrix was the star of the Red-Greens, scoring 7 straight in the paint, to go with some vicious defense. Leading by 17 points and in firm control of the contest, the visitors were able to cruise to victory by a final score of 82-67. Nymburk hopes to rebound on October 8 as they travel to Samara to play Krasnye Krylia.
Kestutis Kemzura:
- Congratulations to our opponent. They deserved a win today and played better. We couldn't play our best basketball against Lokomotiv, largely because of their defense. We couldn't move the ball freely and turned the ball over a lot. As a result, Lokomotiv scored easy baskets on fast breaks. Our other problem was one-on-one defense. We got beat too easily.
Sergei Bazarevich:
- The season is just getting started. We were a little nervous before the game because we weren't completely ready. Plus, we had to travel a lot. We lost the momentum a few times today, but in the end we used our speed advantage. By converting a few easy baskets, we managed to take the game under control and secure the win.
vloženo: 04.10.2014 15:58 / přečteno: 32864x
« Back