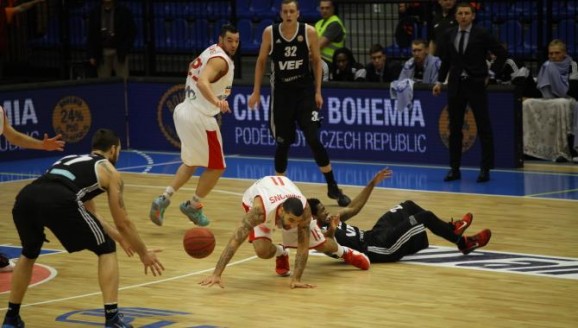 VTB: SEVENTH LOSS IN THE ROW
The losing streak continues. Against Latvian VEF Riga Nymburk lost seventh game in the row and remains on 14th place in the regular season standings. Sunday´s result is 84-90.
The crucial part of the game happened in the 2nd quarter in which Nymburk was heavily outscored by 15 (15:30). The Latvians still held the big lead in the final part of the game. Nymburk tried to come back, cutting the deficit to five points with 25 seconds to play. VEF, however, managed to hang on, knocking down several free throws to ice the win.
Kestutis Kemzura
We didn´t anything to stop them defensively. First of all we had a terrible second quarter. They got a run. We didn´t able to score and let them to score 30 points. Second goal we didn´t achieve our task was to stop they leaders Timma and Robinson. They scored both almost 60 points. It´s more than half. In second half we put a lot of energy to the game. We showed to power to come back but we made some turnovers in crucial moments. Riga played better today and deserved to win.
Nikolajs Mazurs
Very important win for us which helps us in the battle for play off, especially on the road. Our team played with the great energy. We delivered the ball to the right guys in the right moments. Our defense was very effective at some moments and gave us the point gap which we kept until the end.
vloženo: 25.01.2015 22:00 / přečteno: 30245x
« Back