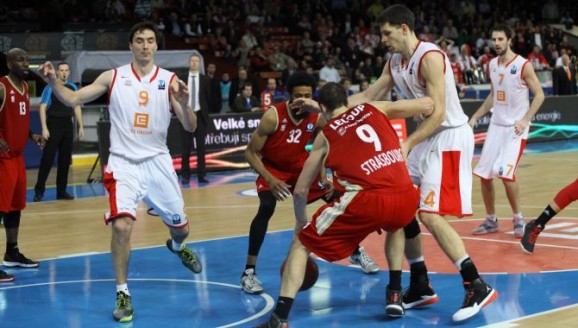 THE LOSS STREAK IS BROKEN
Nymburk achieved its first victory of the Last 32 by defeating Strasbourg 72:66 on Wednesday in Tipsport arena, Prague. We improved to 1-3 in group G, while Strasbourg fell to 2-2. Tre Simmons scored 16 points and Christian Burns posted 15 points, 11 rebounds (7 offensive) and 2 blocks to lead us to important victory after a long loss streak.
Strasbourg took the lead early and led 9:23 late in the first quarter. Then Tomas Pomikalek scored a big three with clock violation and started up his team. With the start of the second quarter Nymburk significantly improved its defense. A 10:0 Nymbur run helped the hosts even the score at 32-32 at halftime. It was tied 40:40 midway through the third too before a 9:0 Nymburk charge separated the sides. Strasbourg rallied to within 4 in the closing minutes, but the home side held on. Darius Washington added 13 points for Nymburk, while Louis Campbell paced Strasbourg with 17 and Bangaly Fofana produced 7 points and 7 rebounds.
Kestutis Kemzura (Nymburk)
We did not have a good start to the game. Our idea was to have some power on the bench and give some minutes to other players. But our plan wasn't to let them run. With the changes, the intensity of our game increased. We pushed more in defense and tied the game by halftime. The third quarter was very good from us. We took the lead, knocked down some big threes, which helped us gain the winning margin. We had to win by more points, at least by 8, but still it´s a good victory for us.
Vincent Collet (Strasbourg)
Congratulations to Nymburk for their win. They deserve it, despite the fact that we started the game very well today. In the first quarter we had good aggressiveness and we had a good rhythm in offense too. But in the next quarter we unfortunately lost this rhythm and they tied the game. The third quarter was about the same. They took a good lead. Obviously we were in trouble at this moment. The zone defense helped us to come back, but we missed some open shots and didn´t make the game closer and finally lost by 6.
vloženo: 29.01.2015 20:46 / přečteno: 29687x
« Back