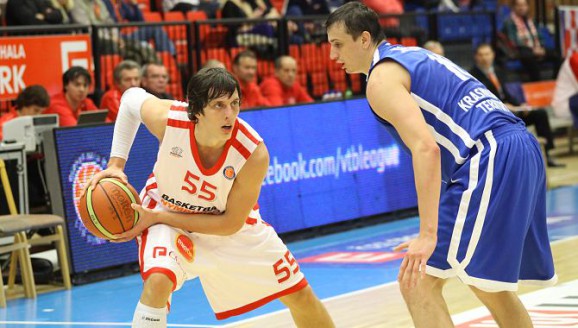 LONG WAY TO SIBERIA
It looks like an unimportant match far in Krasnoyarsk this Sunday, but...
Both Nymburk and Yenisey teams have lost their way to the VTB League playoffs, but the players and the coach Ronen Ginzburg still sees reasons why this match is worth fighting for.
"Of course the playoffs are gone, so it is not easy to motivate the team for the game, but we're all professionals. It's still a prestigious match and we'll play it not just for the fun and a good feeling. Also, it will be a direct battle for the seventh place in the group, so it´s worth playing it and winning it." says Ginzburg before the longest trip of the season.
But it´s not the player´s approach to the match the coach is worried about. It´s the distance the team has to go to get to that match. "Krasnoyarsk lays north from the Mongolian boarder and the local temperatures are currently about minus ten degrees. It's really quite a distance and coping with the jet lag, a seven hour time shift and the local weather is not going to be easy. "he adds.
Vojt?ch Hruban is no stranger to long distance trips with basketball. He recalls immediately his long journey to the Shenzhen Univerisiade in China." It took two days of traveling if you count on the time shift!" says the Nymburk´s winger. He´s also convinced about what the match with Yenisey is going to be about. "We definitely don´t wanna lose this game, it's a fight for the seventh position. That of course also means better financial bonus for the team, but we would fight to win it even if there wasn't any. Yes, this game truly is worth it and we gotta go through it with our heads up."
Hruban expects a tough clash. "A match between so balanced teams like we are is all about the details. We must pay close attention to their rebounds and watch the couple of their players who can go mad during match and then easily make thirty points.
"We got a big trip coming up it's a tough flight, but that´s a part of being a professional, you know, some days you just gotta make some tough trips, and this is one of them. We gotta come out still prepared like if it was any other trip. It's a big game and we have to come out and set the tempo early, be aggressive and not let them attack us." says Demond "Tweety" Carter. Nymburk´s point guard does not feel any pressure before the match. "No pressure at all. At the end of the day you just gotta go out there and play basketball that´s all."
vloženo: 09.03.2013 07:35 / přečteno: 34183x
« Back