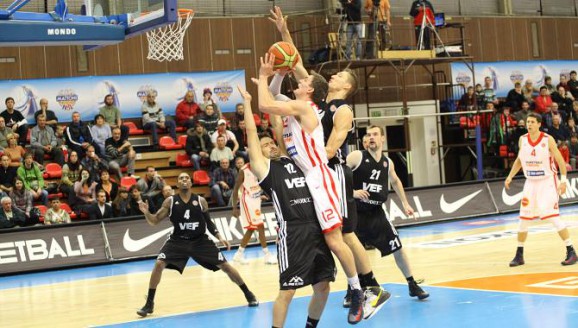 WE MADE IT FOR THE FOURTH ATTEPMPT
We had last chance to defeat Riga in this season. We already played with this team three times (two times in Eurocup and once in VTB) and lost all games.
First points were scored by obviously best player of this years VTB league E.J. Rowland. But we controlled the start of the game and after 3 minutes we were leading for the first time. We won the first quarter by 3 points, 18:21.
The start of the second part went in bad way for us, because Riga made 12 points run, while we had just two failed shooting attempts. But after 6 points on our side we came back to the game. The first half ended again by 3 points difference, this time for Riga – 45:42.
The beginning of the third quarter looked like a battle between Daniels and Rancik. Both made 10 points and it seemed that both of them wanted to make the final advantage for their teams. This battle went batter for Riga that made 9 points advantage.
But we played very well and were fast very close to our opponent. The reversal came at 35:31. After that Riga missed a lot of open shoots and till the end they scored just 4 points! We scored 10 points, 8 of them came from hands of great Mike Efevberha. Bertans tightened the game 50 seconds till the end, but then Riga was not able to stop Petr Benda, who scored. Janicenoks missed 3 point shot in the last seconds and it meant the first win against Riga for us this year. We won 85:89 and we still have chances to advance to play-off of VTB.
vloženo: 16.02.2013 14:09 / přečteno: 32737x
« Back