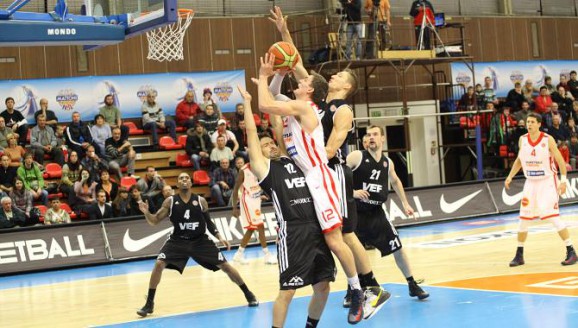 WE DIDN'T FIND A WAY TO BEAT RIGA AGAIN
It was our third game with Riga this year, second one in the Last16 of Eurocup. We lost first Eurocup game in the Czech Republic by 5 points difference. So we wanted to win in Latvia, but didn't manage to make it.
Riga started very fast with run of 9 points and we took our first timeout. After that Rado Ran?ík scored a triple and in next four minutes we tightened the score to 13:13. Riga made a small advantage till the end of the quarter. In the frisdt 3 minutes of the second part just 3 points were scored by Riga. After Rowland's triple the difference was by 10 points. The frist half ended with score 44:31.
In the beginning of the seconf hald Riga made another 5 points run. But we started to reduce their leading by points of Namick and Carter. Rado Rancik made his second triple and the score was 58:47. But than Riga made 11 points in a row and were loosng by 17 points. Riga was just increasing its leading till the end of the game and finished it with 22 points advantage, 81:59.
Quotes:
Coach of Nymburk, Ronen Ginzburg:
"Congratulations to Riga, they played very well and deserved to win. In my opinion they are one of the best teams this season in the Eurocup. I don't have much to say about tonight's game, we had too many mistakes and we just didn't play well."
Coach of Riga, Ramunas Butautas:
"We played against a strong team, so we knew that it was going to be a tough game. I always say that defense and rebounds are keys to success. Today we didn't have our best shooting night from long range, but defense and rebounds carried us. Thanks to all the fans who supported us. Now we have to prepare for our upcoming games."
vloženo: 31.01.2013 15:01 / přečteno: 34387x
« Back