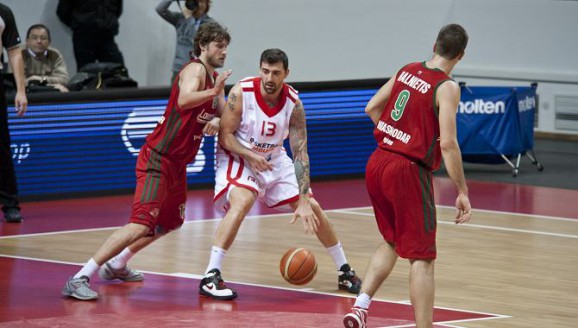 LOST WITH LOKOMOTIV KUBAN IN VTB
Due to some injuries and illnesses, we came to Krasnodar with just 9 players, and it was not clear if all of them would play in this game. Our new player Mike Efevberha participated in just one training, but finally he played.
The first quarter was equable; there was no higher leading of any team. All players came in to game and Mike Efevberha scored his first points for Nymburk by his three point shot and tightened the score to 10:10. We lost the first part with one point difference, 18:17. The second part was significantly poorer with points on our side. We scored just 8 points and Lokomotiv started to build up a solid leading and we were not able to keep up with them. In the last quarter it was obvious that our players were slowly running out of power and the game was lost for us and finally we lost by 21 poitns, 75:54.
Mike Efevberha played the very first match in Nymburk jersey and together with Jiri Welsch was the top scorer with 11 points. Rado Rancik scored 7 points, Petr Benda, Vojtech Hruban and Drew Naymick scored 6 points. Locomotiv was led by Jasaitis with 17 points and Kalnietis with 13 points.
Statistics
Points: Jasaitis 17, Kalnietis 13, Brown and Naric 9, Savrasenko 8, Calathes 5, Bykov, Likhodei and Zubkov 4, Grigoriev 2 – Selech and Efevberha 11, Rancik 7, Benda, Hruban and Naymick 6, Palyza 5, Houska 2; 2 point shots: 21/40 – 17/46; 3 point shots: 6/18 – 3/12; Free throws: 15/18 – 11/15; Rebounds: 37 – 28; Assists: 19 – 12; Turnovers: 14 – 17; Steals: 13 – 7; Fouls: 19 – 20; Quarters: 18:17, 17:8, 21:16, 19:13.
vloženo: 13.01.2013 18:46 / přečteno: 36759x
« Back