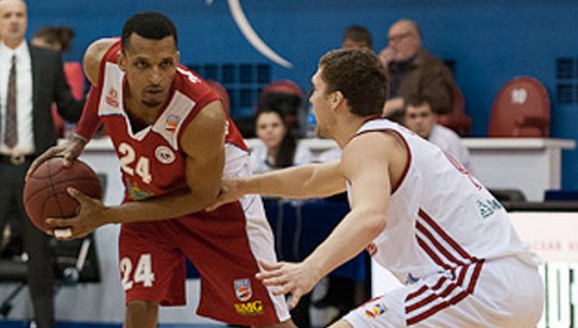 NEW PLAYER - MICHAEL EFEVBERHA
American Exchange – Mike for Mike – Mike Taylor is leaving our team, instead of him comes Michael Efevberha.
Press release
CEZ Basketball Nymburk agreed to terminate the contract with his current guard Mike Taylor, who came to the team of Czech champion form Greece in the summer. "Mike is a good player, however, his performances were not stable therefore we decided to split our ways," said the head coach Ronen Ginzburg.
The post of shooting guard will be substituted by Michael Efevberha, 28 years old American who spent this season in the Russian Vladivostok and comes for try-out to our team. In previous years, he gained experience in France, Switzerland and the Dominican Republic.
"The player has the potential, but we need to see him directly with us and that's why we agreed on try-out," said the coach Ginzburg about new potential player.
Mike was born in the U.S. city of Pomona, California (near Los Angeles). He has the Nigerian passport thanks to his father.
Career:
• 2002-2004 University of California Irvine (NCAA, USA)
• 2005-2006 California State University Northridge (NCAA, USA)
• 2006-2007 Idaho Stampede (D-League, USA)
• 2007-2008 Iowa Energy and Anaheim Arsenal (D-League, USA)
• 2008-2009 Anaheim Arsenal (D-League, USA), Exodus Wellington (New Zealand)
• 2009-2011 Cholet (France) and Lugano Tigers (Switzerland)
• 2011-2012 Iowa Energy (D-League, USA), Cocolos de San Pedro de Macoris (LNB, Dominican Republic)
• 2012-2013 Spartak Primorie Vladivostok (BEKO PBL, RUS), CEZ Basketball Nymburk (NBL, Czech Republic)
vloženo: 09.01.2013 10:25 / přečteno: 36015x
« Back