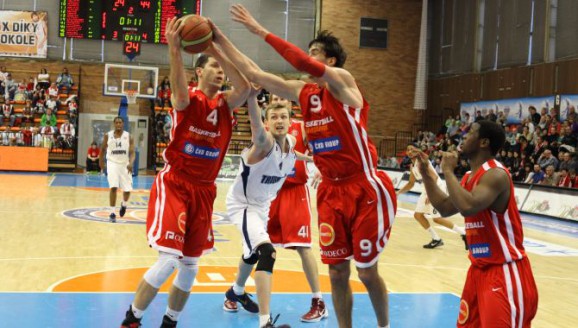 TRIUMPH OVER OUR FORCES
The second match with Triumph was equable only in the first few minutes. Then the match was entirely directed by the guests who gave us another high defeat. Our chance to advance to the play- off of VTB League is considerably reduced.
Rado Rancik opened the score of the game by his 3 point shot. Balanced game was seen only in the first 5 minutes. Then Triumph started getting into a slight lead. In the second quarter Triumph increased the leading to 19 points after ensuing 1-12 run and we got into big trouble. We started the second half with 5 points, but Triumph did not admit any surprise and gradually added some points to its leading. We failed to do anything. Both on defense and on offense we played poorly and it was the biggest debacle in home game for a very long time.
Most points (13 points) scored Vojta Hruban, Petr Benda and Drew Naymick scored 12 points and had 6 rebounds. 5 Triumph's players scored over 10 points - McKee with 16 points and 6 rebounds, Karasev with 15 points, Landry with 14 points, Naimy with 13 points and 11 points for Kuzyakin.
Quotes
Coach of ?EZ Basketball Nymburk, Ronen Ginzburg
"It was the worst game we played home for a long time. We played very bad especially on defense. After the Wednesday game we came out of energy after first few minutes and they controlled the game. We didn't play good like individuals even not like a team. It was for the first time in home match. We have to forget this game very fast and play much better in next ones."
Coach of BC Triumph Ljubercy, Vasilij Karasev
"This game was very important for us, because last games we lost just by one or two points difference. We didn't feel so good, because some players were injured. But last 10 days we worked very hard and we showed it in this game. We lost some games at home, so this win is very important for us. It's next step for advancing to play-off of VTB."
vloženo: 21.01.2013 10:44 / přečteno: 35921x
« Back