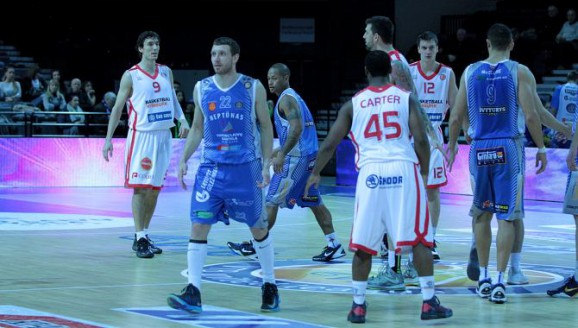 BAD SERIES CONTINUES
After lost in Riga we went to Lithuanian city Klaipeda for probably the most important game in TVB League. Neptunas Klaipeda had just one win and we needed to win if we wanted to advance to the play-off.
The game was equable just in first few minutes. We were leading just once in this match in the very beginning. Riga started to make an advantage in the first quarter that finished with score 28:20. In the beginning of the second quarter we were loosing by 10 points very fast. Very often we left their players free for open shots; we started to make s lot of mistakes and turnovers. After Rancik's and Carter's triples we lowered our lost to 12 points and were still in the game.
The third quarter was very bad for us. Riga made 7 points in a row and was leading by 21 points and it was maximized to 24 points. In the last part we scored 6 triples and this was the reason why we shortened their leading to the final 10 points.
Our best scorer was Demond Carter with 23 points, Rado Rancik made double-double for 21 points and 12 rebounds. The best players of Neptunas were Gailius with 22 points and Runkaskas with 21 points.
vloženo: 02.02.2013 21:02 / přečteno: 34497x
« Back