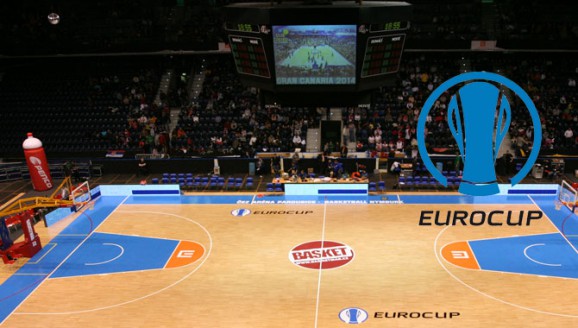 FAILURE IN THE THIRD QUARTER
For our second game in Last16 of Eurocup we invited Valencia Basket to our home court. After the win over Bilbao from last week, we knew that we would be strong opponent to Valencia. The first half of the game was equable, but we performed bad failure in the third quarter and finally lost the game in the dramatic end.
In the beginning of the game it was Valencia who made an advantage and was in the leading. This leading was by 10 points in the start of the second quarter. But Rado Rancik and Lukáš Palyza made 3 point shots and the difference was just 5 points. Valencia secured this difference for few minutes. Drew Naymick showed how to dunk twice in a row and we went into leading for the first time during the match. We won the first half 40:39.
But the start of the second half was like a bad dream. Valencia made a 17-2 run and it looked like the game was over for us. We scored just 11 points in this part against 28 points of Valencia. We started the last quarter much better by7 points in a row. Valencia still secured 10 points leading. After two 3 triples of Rado Rancik and his free throws we lowered Valencia's leading to 5 points. 2 and half minutes before the end of the game Lukáš Palyza came and scored 2 triples in a row and tightened the score to 76-76. The most important basket of the game was made by Doellman and Valencia finally won this dramatic game 77-82.
Our best player was again Rado Rancik with 24 points and 5 rebounds. Rado made 4 three point shots of 6 attempts – same as Lukáš Palyza with 18 points. Petr Benda added 10 points. Dubljevic made 19 points, despite his injury. Doellman scored 18 points and San Miguel and Kelati added 14 points.
Coach's quotes:
Coach of Nymburk, Ronen Ginzburg:
"It was a strange game with a lot of ups and downs for both teams. We managed to come back, but in the end it was not enough. I don't like how we played in the second half of the game, until we came back. We had to change the rhythm of the game. When you play against team like Valencia and make mistakes on defense, they will punish you. In the end we tightened the game, but the basket at 76-78 was the basket of the game. I am a little bit disappointed now, but we have to be realistic, we lost to Valencia."
Coach of Valencia, Velemir Perasovic:
"We started the game well; in the first quarter we had good advantage and played great on offense. In the last two minutes of the second quarter we lost everything we had before. Then we had to start a new game in the third quarter. The best part of the game came in the third, when we built a great advantage. But in first half of the fourth quarter we allowed 5 points in a row very fast and we had problems. We know how we played, so it is great win for us."
vloženo: 17.01.2013 10:51 / přečteno: 33841x
« Back