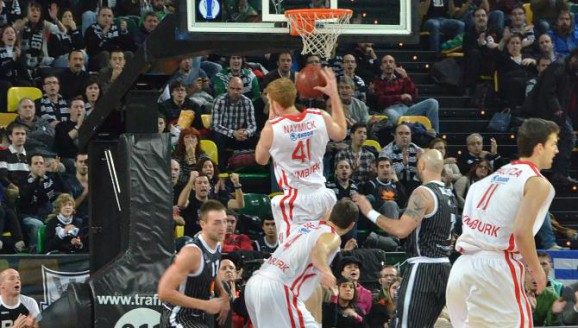 LOST WITH BILBAO MEANS END IN EC
We played the key game against Bilbao at home. If we wanted to advance to play-off we definitely needed to win. There was no other option. For a few bright exceptions Bilbao had the whole game under control.
We were leading just first few minutes of the game. Then Bilbao made 13 points in a row and we lost the first part by 9 points. Another run of 9 points in the beginning of the second parts meant very bad situation for us. At the moment Bilbao was leading by almost 20 points we made 11 points after fighting of our players. It was started by Ne?as, Hruban added a triple, Rancik made also 3 points and Hruban scored his third triple in the game. But it looked like it was too much for us. Bilbao started to increase the leading again and we lost the first half by 18 points difference.
In the third quarter we were able to come back to the game and the difference was just 9 points. The last part brought dramatic moments. After fast points from our side Bilbao was leading by just 5 points! 3 minutes before the end we lost our key player Petr Benda, who had 5 personal fouls. Bilbao showed its quality and experience and guarded the match also thanks to our poor shooting success and more mistakes. Finally Bilbao won by 14 points, 69:83.
Quotes:
Coach of Nymburk, Ronen Ginzburg:
"In the first half we played really bad, especially in the second quarter. I am happy with what happened in the second half, because it's not easy to come back in a game that had such a bad direction for us. I am glad that everybody could see what team we defeated in Spain. They are a really good team that will go far. I congratulate them."
Coach of Bilbao, Fotios Katsikaris:
"This game was very important for us in terms of our group and chances for advancing. We played great in the first half of the game, especially on defense; we controlled the rhythm of the game and the rebounds. In the second half we were not able to control the advantage from the first half; we missed a lot of open shots. But in the last 3 minutes, the team was very focused and concentrated, so we won the game."
vloženo: 12.02.2013 14:09 / přečteno: 35390x
« Back