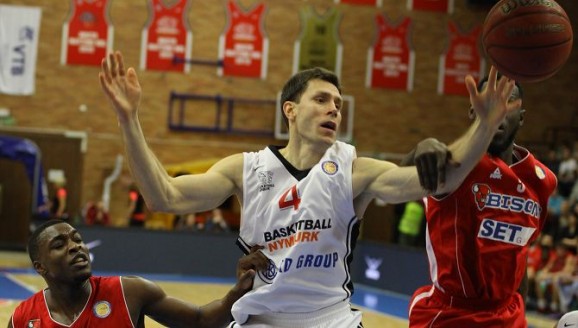 FORTRESS NYMBURK IN VTB LEAGUE
6-0 – that is Nymburk´s record at home in the VTB league this season. Last win was against Bisons Loimaa 87:59. Czech team moved to fifth place in the regular season standing.
The home team started the game on a 21-9 run and never looked back, cruising to their 7th win of the season. Nymburk started the season 6-1, only to lose three straight, and needed a win in front of the home fans to get back on track. And
that
is exactly what happened
on Sunday against Finnish team.
Nymburk took control early, jumping out to a 12-3 lead in the first five minutes. The Czechs attacked the paint relentlessly, led by Chasson Randle and Julian Vaughn. The Finnish visitors tried to get back in the game from the perimeter, but a 4-17 showing from downtown in the first half meant Bisons trailed 46-23 at halftime.
Bisons tried to push the tempo in the 3rd quarter with quick transition offense, but Nymburk always had an answer, holding the visitors at arm's length. Ronen Ginzburg's men outscored Bisons by five in the second half, enjoying a comfortable win at home.
Next up at home: reigning champs CSKA on December 20 in Prague, Kralovka.
Ronen Ginzburg (Nymburk)
We played against good team. Not today but we saw them all their games. They played well, especially last three four games including the game against Kuban. The team that beats Kuban can´t be underestimated. Today we had more energy. We were more focused. We shoot not bad from outside. The energy on our side decided the game. We had busy schedule like Bisons. Sometimes you deal with it, sometimes you don't. We also were in their situation especially when you must travel to the road games and your engine does not work. Today it works for us, not for the opponents. That is basketball.
Greg Gibson (Bisons)
Congratulation to Nymburk. They were excellent today. They played with a lot of energy. They were ahead of us in probably every category. We didn´t take away anything. I give the credit to coach Ginzburg and his guys. They brought aggressive approach to the game. Overall it wasn´t a good day for us. Early on we had some good looks, we didn´t shoot the ball well at all. It´s happened sometimes. We just have to move forward now. We had a tough stretch this week. We need to take a rest for couple of days now.
vloženo: 07.12.2015 10:06 / přečteno: 30097x
« Back