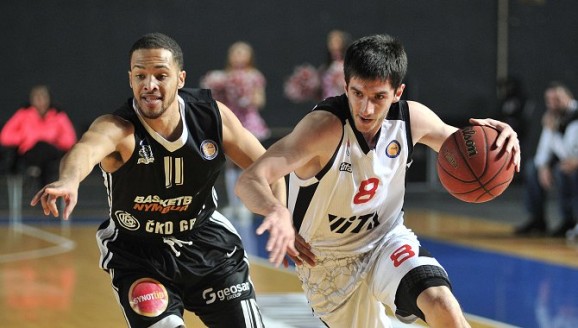 EASY WIN IN TBILISI
Nymburk defeated Vita on the road in Tbilisi, 119-59. The visitors took a big lead in the 1st quarter and cruised to victory over a Georgian opponent.
This win means
that Nymburk remains on the
fifth place
of the VTB League regular season table.
The first minutes of the game were extremely high-scoring. Despite never leading, the Georgians kept the score close, trailing 20-17 after six minutes.
But Nymburk had no interest in letting Vita hang around. The visitors closed the 1st quarter on a 17-0 run to take a 20-point lead through 10 minutes.
Ronen Ginzburg's men maintained control over the rest of the game. The Czechs won each quarter by 10 points or more, finishing with a completely dominant 60-point win, 119-59.
Points:
NBK – De Zeeuw 16 (4d, 4a, za 3b 4/2), K?íž 15 (8d, 3a, za 3b 3/3), Randle 14 (4a, za 3b 4/2), Sant-Roos 13 (6d, 6a), Dixon 13 (4a), Vilhjálmsson 12 (3a, za 3b 4/3), Vaughn 12 (6d), Hruban 9, Welsch 7 (4a), Houška a Peterka 4.
TBI – Chlaidze 20 (40:00min), Staratelev 17, Shengelia 10…
vloženo: 15.12.2015 10:04 / přečteno: 30681x
« Back