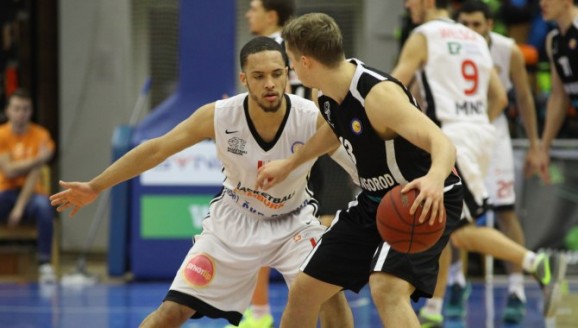 IMPORTANT WIN OVER NIZHNY
Nymburk defeated Nizhny Novgorod at home, 76-70, on Sunday evening. The battle was decided in the final minutes. After Victor Rudd put visiting Nizhny on top by three, 67-64, Nymburk's Michael Dixon took over, scoring nine straight to give his team a much-needed win at home. The Czechs improve to 9-6, matching last season's win total at the halfway mark.
7th place in the standings was on the line with Nymburk nursing a half-game lead entering Sunday's contest. The visitors enjoyed the early momentum, leading by eight, 16-8, midway through the 1st quarter. The home team didn't need long to respond, knotting the score at 16-16 to end the period.
Ronen Ginzburg's men continued to apply pressure in the 2nd quarter. Michael Dixon was superb, finishing the half with 14 points to give his team a 35-30 lead at halftime.
Nymburk came out strong in the 3rd quarter, leading by as much as 11 points, before allowing Nizhny Novgorod to trim the deficit to three, 54-51, to close the period.
Playing with increased confidence, Nizhny Novgorod enjoyed the upper hand much of the 4th quarter. The visitors took a three-point lead, 67-64, on two free throws from Victor Rudd with two minutes to go, setting the game up for a dramatic finish.
His team struggling to generate offense, Nymburk guard Michael Dixon rose to the occasion. First, he knocked down a deep contested '2' to cut the deficit to one. After Nizhny missed twice at the other end, Dixon drilled another long jumper, this time from well beyond the arc, putting Nymburk on top, 69-67.
Rudd tied the game for Nizhny on the following possession, but Dixon would not be stopped, converting four straight free throws to make it a four-point game. Nymburk went on to win, 76-70, the team's 7th win at home this season and 9th overall.
vloženo: 13.01.2016 01:56 / přečteno: 31988x
« Back