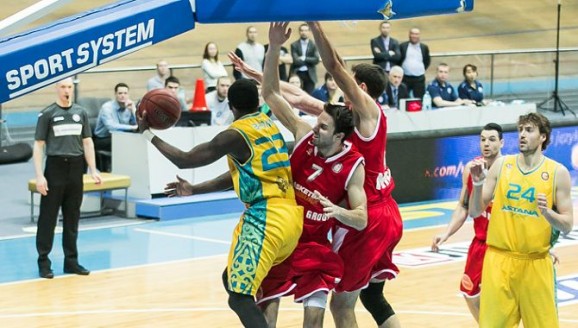 IMPORTANT ROAD WIN IN ASTANA
Nymburk defeated Astana on the road, 84-82. The home team with our former player Rasid Mahalbasic led by eight at halftime and were in control most of the 3rd quarter before a 7-0 run helped Nymburk tie the game at 62-62 entering the final period.
Center Petr Benda was on fire to start the 4th quarter, scoring eight points in less than three minutes. That gave us the momentum for good, though Astana managed to make things thrilling in the final minutes. But Nymburk held on thanks to solid free throw shooting and picked up first win since November 23 and snapping seven-game losing streak in VTB league.
Kestutis Kemzura (Nymburk)
This was a very intense game today. We're very happy that it ended in our favor. The 1st quarter wasn't bad...we dug ourselves a hole in the 2nd quarter, when Astana took the lead. We couldn't stop them. We played bad defense. On offense, we were pretty good, but missed a lot of shots under the basket. In the 3rd quarter, we improved our defense. That's how we tied up the game. At the end of the game, we were in control.
Vitaly Strebkov (Astana)
I think we started the game pretty well and followed the game plan. But we committed a lot of turnovers in the 4th quarter. We got a little too enamored with isolation moves. We couldn't maintain the energy with which we started the game. As a result, Nymburk fully deserved the win.
vloženo: 02.02.2015 19:18 / přečteno: 29484x
« Back