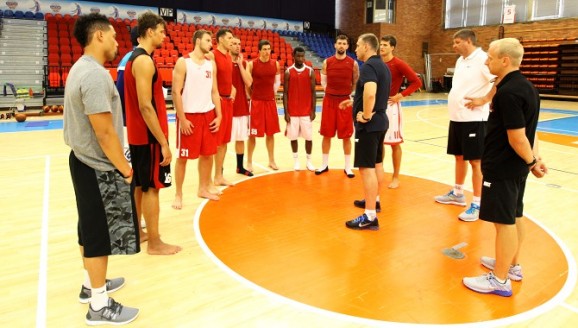 NYMBURK´S NEW PLAYERS
Five new foreign players came to Nymburk to help the team fulfill its ambitions. Apart from Slovak Rado Rancik who is not considered a foreigner the team players from abroad have been completely replaced.
The arrival of the new players brought consolidation of all positions. The team's point guard is now Scottie Reynolds and Tre Simmons serves as a shooting guard and small forward. Dylan Page and Rashid Mahalbasic are the new power forward and the center, respectively. Jonathon Thompson, another point guard, came to the team for a month try-out.

Before the arrival of these players came to Nymburk the new Lithuanian trainers. The head coach is Kestutis Kemzura now. His assistant is Robertas Kuncaitis. Fitness and athletic trainer is Ricardas Reimaris.
Scottie Reynolds (USA, 26 yrs, 188 cm) came over from the Italian Enel Brindisi playing Series A. Reynolds is a complex player who feels best in the point guard position. Due to his shooting skills, he does well also as a shooting forward. The quick-tempered recruit with a great basket penetration skills has a remarkable three-point basket scoring rate. In 2012-2013 season in his last engagement in Italy Reynolds scored 41,3% of his three-point shots adding 57% FG, 11,7 ppg, 5,4 apg and 3,4 rpg.

Tre Simmons (USA, 31 yrs, 196 cm), returns to Nymburk after a year spent in Samara, Russia. Simmons played two seasons between 2010-2012 in Nymburk, won two Mattoni NBL titles and belonged to best shooters of the team. Now he is coming to prove his abilities. His last season in Samara was very successful; along with his team Simmons won EuroChallenge Cup and gained MVP trophy.

Dylan Page (USA, 31 yrs, 204 cm) came from Gaziantep, Turkey, having spent the first half of the season in Olympia Ljubljana where he had 15 ppg. Page has got rich experience with European basketball; In Nymburk he has started his tenth season in Europe. In the past years he played in Greece, Spain, France, Slovenia and Turkey. His longest engagement was in Roanne, France, where he played seasons 2009-2012.
Rasid Mahalbasic (Austria, 22 yrs, 211 cm) is the youngest and tallest newcomer to the team. He spent last season in Gdynia, Poland, under new Nymburk's coach Kestutis Kemzura who wanted to continue working with the young talent. Despite his young age Mahalbasic is experienced European player. Last season in polish league he ended up with 11 ppg and 6,8 rpg. In the ten Euroleague matches he gained 9.8 ppg and 6.8 rpg.
Jonathon Thompson (USA, 23 yrs, 192 cm) came over to Nymburk straightaway from an Orlando university. Although he has no experience with European basketball and his engagement in the Czech team is his first try-out to get a professional contract, he was asked by Kestutis Kemzura himself to join the team. He was a member of Rider Broncs' starting five in NCAA in last two seasons.
vloženo: 20.08.2013 18:17 / přečteno: 33945x
« Back