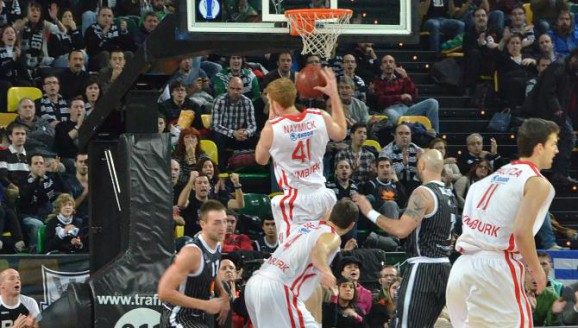 AMAZING WIN OVER BILBAO BASKET
We started our Last16 group with difficult game in Spain against Bilbao Basket. We can say we were outsiders in this game, but we performed perfect team performance and won this important game. It is another scalp of top European team. The star of the game was Rado Rancik with 30 points.
The first half of the game was very steady and finished with tie 36:36. We made the important difference in the second half of the third quarter while shooting 11 points against just 2 points of Bilbao. But Bilbao driven by its fans started the last part with 8 points in a row. Bilbao ten made 3 technical fouls and we could go to a bigger leading again. Less than minute before the end of the game Bilbao turned the score on its side. But our star Rado Rancik decided the game by his 5 points to 83:85 and we celebrated great won in the first round of Last16 of Eurocup.
We played just with 10 players and 2 of them played less than 2 minutes. Four players (Petr Benda, Jirka Welsch, Rado Rancik a Drew Naxymick) played over 30 minutes. Rado Rancik made 30 points, scored five 3 point shots form 8 attempts and had 7 rebounds. The second best player was Drew Naymick with 20 points and 7 rebounds.
Coach of CEZ Nymburk, Ronen Ginzburg
"It is one of the biggest wins in the history of our club, even more than those we had against CSKA or Partizan Belgrade. Beating Uxue Bilbao Basket in this Arena, in front of its fans, is a better and more valuable victory."
Coach of Bilbao Basket, Fotios Katsikaris
"Nymburk played its best as a team, leveraging our poor defense. Now we must do the best we can in the coming games. It's a very difficult group. Riga yesterday warned Valencia and was close to winning, and today we saw Nymburk in Bilbao. We must regain our team play and win in Riga."
vloženo: 10.01.2013 10:30 / přečteno: 33959x
« Back