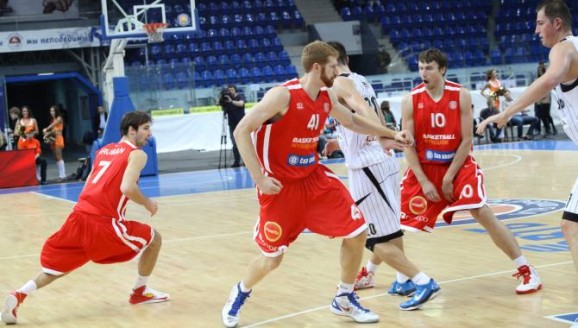 SECOND LOST WITH NOVGOROD
On Sunday we started second round of VTB league with Nižnyj Novgorod. We lost the first game in Novgorod by 16 points, but our team changed a lot, is better now, so we were prepared to win.
Novgorod started the game much better than Nymburk and in the first quarter was leading by 15 points. Nymburk performed better defense and came back to the game. In the beginning of the second half we tightened the game after Pavkovic's 3 point shoot. It looked like we were in better condition and were prepared to turn the score. It was not our first attempt to take the leading from Novgorod, but our opponent was focused every second of the game and didn't allow us to make it. In the end we didn't make some easy points and Novgorod defended its win.
Quotes:
Coach of Nymburk Ronen Ginzburg:
"We started the game very bad and lost the beginning of it. I was happy we came back during the first half. Again, in the beginning of the second half we came back, played better. But we were not able to finish it from some reasons. I knew we would play against very good team and players, but still in our position we should win and I am disappointed now."
Coach of Novgorod Zoran Lukic:
"Honestly, there are two sides. One that surprised me and one that not. I am not surprised that we played so good, because before Christmas we played with extremely good Russian teams, such as Spartak and St. Petersburg and we lost in last seconds. I was sure my guys were ready to prepare physically and mentally for hard work and next games. We have new player Yakovenko who played great. I was surprised that we were able to substitute 2 our important players on position 4, who couldn't come with us. I was afraid it would be a problem especially on the offense, but we made it and solved this problem very well, especially thanks to Yakovenko, he was one of the best players today."
Petr Benda (Nymburk):
We failed in the first quarter. In the second one we started to defend a little better, we got Novgorod under pressure. Although we didn't score all shots, we were able to gradually return to the match. By the third quarter we tightened the game thanks to Pavkovic's 3 point shot, but in a minute we were back in the loss of six points. Many times we were close to Novgorod but we were not able to go over them and to start leading."
Primož Brezec (Novgorod):
We started the game very well, we played responsibly in defense, and we were well prepared for Nymburk. We knew where the team has weaknesses and in what is a strong. In the second quarter we allowed them to return to the game. Finally, we got to the larger point lead and we won. It is very important win to us. At the end of the match we would be able to focus even more, I missed four free throws, which is inexcusable.
vloženo: 07.01.2013 11:00 / přečteno: 37401x
« Back